General Tutorial
Updated 2 months ago
After being approved as our member, you may now go ahead and log into your account from members.greendropship.com in order to start using our services. 
Import our products
The data feed is one of the most essential assets of our website as it provides our members with the necessary information about our products, their stock levels, descriptions and much more.

After logging in, you will find yourself on your member dashboard. In the Member Resource Area, you will be able to find a section labeled "Data Feed and Inventory Levels":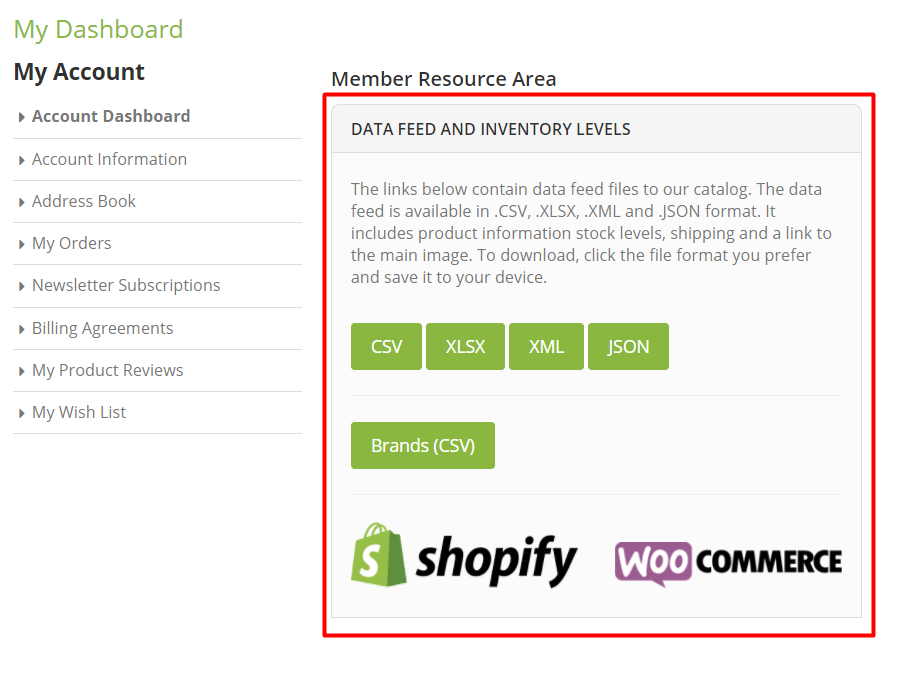 We offer our spreadsheet in multiple formats, including .CSV, .XLSX, .XML and .JSON as well as pre-formatted for Shopify and WooCommerce.
Update Inventory levels
The data feeds in our system get updated daily and provide you with the most up-to-date product information possible. We also make sure to display our current inventory levels in our feeds. 
As we do not currently offer automated inventory updates, we recommend our customers to manually update their stock levels daily in order to keep their data accurate. 
Place orders
Once you receive an order from your customer, you would place the order with us by adding the items to your cart and using your customer's address as the shipping address. We handle the fulfillment and shipment of the order from there. 
If you wish to find out more about our services, you can also visit our FAQ page below:
http://help.greendropship.com/hc/en-us/categories/360000073353-General
Was this article helpful?