Do I need an annual GDS membership to use the app?
Updated 2 months ago
Yes, you do. Your GreenDropShip annual membership will allow you to import products and sell them in your Shopify store using the GreenDropShip app.
Any products that you want to sell on Shopify will have to come from GreenDropShip, your dropshipping supplier. Remember, dropshipping is a retail model in which you don't' handle the inventory. Instead, the dropshipping supplier stores, packs, and ships all products on your behalf.
After you get the annual membership, you will get an invoice number sent to your email. You need to use that invoice number to connect your GreenDropShip account to the app.
Your GreenDropShip membership includes: 
Access to over 20,000 natural and organic products from over 800 different brands. 

An inventory feed that's updated multiple times a day. 

A data feed that you can download to import products into your store. 

High-resolution images that you can use for your product pages. 

Efficient order fulfillment and next-day shipping throughout the continental US.

Fulfillment by Amazon

(FBA) prep services. 
We offer one membership plan: $149 a year. You can choose anything from our entire inventory and start importing them into your store. You can also view our entire selection of products without becoming a member, but if you want to actually sell the items in your Shopify store, you have to sign up for our annual membership here.
Join us today and start selling on Shopify!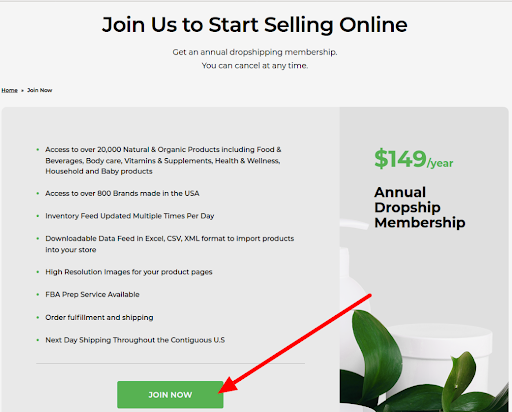 Was this article helpful?